Corcovado 8-Day
---
Starting at $1,498 per person
---
This 8-day nature vacation in Corcovado, Costa Rica will take you to one of the most beautiful areas Costa Rica has to offer. Often labeled the crown jewel of the national parks and biological reserves spread across the Costa Rica, Corcovado has been called "the most biologically intense place on Earth in terms of biodiversity" by National Geographic.
Day 1 – Arrival in San Jose
Today you'll arrive at Juan Santamaria International Airport in San Jose where your friendly Green Frog Adventures Guide will be waiting to transport you to your first exotic destination. From the airport we'll take the short drive up into the mountains overlooking San Jose to our lovely hotel for the evening. Once we arrive you can enjoy an authentic Costa Rican meal as you gaze out at the San Jose Valley far below.
Meals: No meals included today.
---
Day 2 – Transfer to Corcovado
Today we'll take the quick flight to Corcovado, arguably the most bio-diverse place on Earth! Located on the Osa Peninsula, Corcovado National Park is home to the most unspoiled costal rainforest in Central America. With over 400 bird species, 140 mammals, and an amazing 500 tree species, this park has more biodiversity than most countries, including the entire United States! You should be back at your hotel in time for a short hike on the many trails surrounding the hotel.
Meals: Breakfast, Lunch, and Dinner
---
Day 3 – Guided Nature Hike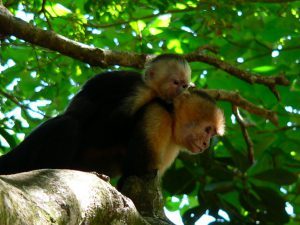 Spend the day hiking through this paradise on one of the many trails that crisscross the park.
Your professional naturalist guide will point out and explain all of the natural phenomenon you encounter.
You'll encounter more species of plants and animals today than on any given day anywhere – we guarantee it…
Meals: Breakfast, Lunch, and Dinner
---
Day 4 – Canos Island
Today we'll visit the Isla Del Cano Biological Preserve located on a small island about 12 miles off the coast. The Preserve has some of the best snorkeling in the country and is home to hundreds of tropical fish, rays, eels, and even a small shark or two. You can delight in this underwater paradise as you guides prepare a delicious lunch on the white sandy beach. Frolic long into the afternoon and we'll head back for a poolside dinner at your hotel.
Meals: Breakfast, Lunch, and Dinner
---
Day 5 – Transfer to Manuel Antonio Beach
Today we'll rise early and start heading toward Manuel Antonio one of Costa Rica's most beautiful beaches.
You'll be basking under the tropical rays on the white, sandy beach and swimming in the warm, crystal blue-green Pacific in no time at all.
That evening, you can take a delightful walk along the beach and watch the sun as it slowly descends into the sea.
Meals: Breakfast
---
Day 6 – Manuel Antonio National Park
Today you can take a leisurely hike through one of Costa Rica's most impressive National Parks.
Manuel Antonio National Park is literally crawling with strange and exotic creatures.
You'll see dozens of monkeys, sloth, iguanas, and if you're really lucky maybe one of the stealthy jungle cats.
After the hike, the rest of the day is yours to enjoy the beach.
Meals: Breakfast
---
Day 7 – Beach Day
Sleep late (after the last few days, you've earned it!).
Soak up some rays, hit the waves, snorkel, or choose from a multitude of other cool activities — either way, just relax and have fun!
And for those of you who just can't sit still, we have several optional tours available: deep sea fishing off the coast or a day at our favorite luxury spa perhaps???
Meals: Breakfast
---
Day 8 – Adios!!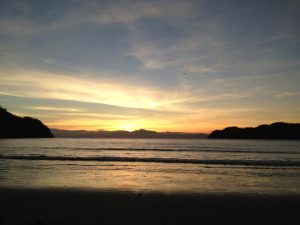 We'll provide a private shuttle that will take you directly from your hotel to the passenger drop-off at the airport.
You'll depart with amazing memories of the perfect tropical family vacation. Adios…
Meals: Breakfast
---
What's Included:
All Domestic Transportation
Professional Bilingual Guides
1 Night in a Hotel in San Jose
3 Nights in a Hotel in Corcovado
3 Nights in Manuel Antonio
Guided Nature Hike in Corcovado National Park
Canos Island Tour
Guided Hike in Manuel Antonio National Park
7 Breakfasts, 3 Lunches, 3 Dinners