Costa Rica Honeymoon Package 9-Day
---
Starting at $1,698 per person
---
Our Costa Rica Honeymoon Package is sure to provide you with with enough romance and relaxation as you need. With visits to the Cloud Forest, Nature Hikes, Hot Springs, and more, you're new life together will be full of fun and adventure.
Day 1 – Arrival & Transfer to the Los Angeles Cloud Forest
Today you'll arrive at Juan Santamaria International Airport in San Jose where your friendly Green Frog Adventures Guide will be waiting to transport you to your first exotic destination. From San Jose we'll start making our way up into the highlands of Costa Rica into the Los Angeles Cloud Forest. Our hotel for the next couple of nights is set on its own massive Wildlife Reserve and is in our opinion, one of the most serine, tranquil places on Earth.
Meals: No Meals Today
---
Day 2 – Guided Nature Hike
Wake at your leisure and after a delicious breakfast we've scheduled a private Nature Hike for you. The forest has a multitude of trails that cater to all ability levels and we'll provide a professional Naturalist Guide to point out and explain all of the forest's hidden treasures. The rest of the Afternoon/Evening are yours to relax and enjoy this amazing paradise.
Meals: Breakfast
---
Day 3 – Transfer to Arenal Volcano & Thermal Hotsprings
Today, after breakfast, we'll start making our way to our next exotic location. La Fortuna is a quaint little mountain town located at the base of Costa Rica's most active volcano, Volcan Arenal. Then, the afternoon and evening are yours to soak your weary bones in one of the steaming thermal pools at the resort located at the base of the volcano. Sip on a rum filled coconut while you watch the volcano explode. Soak long into the evening then settle in for a well-deserved night's sleep.
Meals: Breakfast
---
Day 4 – Wildlife Float Trip on the Penas Blancas River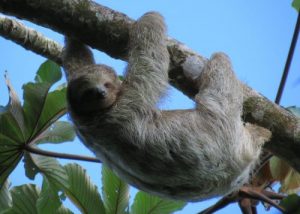 Today we'll start the day with a wildlife float trip on the Penas Blancas River.
You'll see hundreds tropical bird species, monkeys and sloth, reptiles of all sorts including caimans and huge iguanas, and tons of other exotic creatures.
After the Float the afternoon is yours to relax by the pool as you gaze up at the Majestic Volcano…
Meals: Breakfast
---
Day 5 – Arenal Hanging Bridges Hike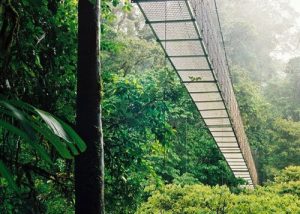 Arenal Hanging Bridges is one the most beautiful environmental friendly projects in Costa Rica. Located in front of the Arenal Volcano, within the corridor followed by birds migrating between North and South America, the trails and bridges of this project will bring you as close as you could ever hope to get to the birds, the flowers and the lush vegetation of the primary rainforest. Walk right into the forest, thanks to the imposing hanging bridges overlooking the canopy and our easy, safe and beautiful trails with views of the Volcano.
Meals: Breakfast
---
Day 6 – Transfer to Manuel Antonio Beach
Today we'll rise early and start heading toward Manuel Antonio one of Costa Rica's most beautiful beaches.
You'll be basking under the tropical rays on the white sandy beach and swimming in the warm, crystal blue-green Pacific in no time at all.
That evening, you can take a delightful walk along the beach and watch the sun as it slowly descends into the sea.
Meals: Breakfast
---
Day 7 – Guided Hike in Manuel Antonio National Park
Today you can take a leisurely hike through one of Costa Rica's most impressive National Parks.
Manuel Antonio National Park is literally crawling with strange and exotic creatures.
You'll see dozens of monkeys, sloth, iguanas, and if you're really lucky maybe one of the stealthy jungle cats. After the hike the rest of the day is yours to enjoy the beach.
Meals: Breakfast
---
Day 8 – Beach Lounging & Sunset Sailing Trip
Today you can spend on the beach just working on your tan or engaging in one of the many activities Playa Hermosa has to offer.
That evening we'll take an incredible sunset sail along the coast.
We'll see dolphins, turtles and maybe a whale or two but mostly you'll be awed by the spectacular sunset as the sun slowly dips into the warm blue-green Pacific.
Meals: Breakfast, Light Meal & Happy Hour
---
Day 9 – Transfer to San Jose & Adios!!
We'll provide a Private Shuttle that will take you directly from your Hotel to the Passenger drop-off at the Airport.
You'll depart with amazing memories of the Perfect Tropical Family Vacation.
Adios…
Meals: Breakfast
---
What's Included:
All Domestic Transportation
Expert Drivers
Professional Bilingual Guides
2 nights Hotel in Los Angeles Cloud Forest
3 nights Hotel in La Fortuna (Arenal Volcano)
3 nights Hotel in Manuel Antonio
Guided Cloud Forest Hike
Entrance to Thermal Hotsprings Resort
Wildlife Float Trip on the Penas Blancas River
Guided Hike on Arenal Hanging Bridges
Guided Hike in Manuel Antonio National Park
Sunset Sailing Tour
8 breakfasts, 1 Happy Hour