Do-It-All 14-Day Family Vacation Package
---
Starting at $2,498 per person
---
Our Costa Rica Adventure Travel Package is for those thrill seekers who just can't get enough out of their vacation! You'll spend three days rafting on the Pacuare, hiking, zip lining, canyoning, and more. There'll be so much packed into this itinerary, you'll wonder if there's anything left!
Day 1 – Arrive & Transfer to Turrialba
Today you'll arrive at Juan Santamaria International Airport in San Jose where your friendly Green Frog Adventures Guide will be waiting to transport you to your first exotic destination. Turrialba is a sleepy little Mountain Town located on the slopes of a now semi-dormant 10,000 foot volcano, Volcan Turrialba. Turrialba is also known as the whitewater rafting center of the country. Once we arrive, we'll settle into our plush plantation style hotel located on the shores of its own private lake. Get a good night's sleep, tomorrow we start the adventure!!
Meals: No Meals Today.
Day 2 – Three-Day Pacuare River Rafting
Wake early for a two-day white water rafting adventure on the Rio Pacuare. We will travel form Turrialba to Tres Equis where we descend through dense jungle into the heart of the Rio Pacuare gorge. This is a special river running through some of the last remaining virgin rain forest in Central America. National Geographic called the Pacuare one of the top three commercial rafting runs in the world. Between the class III + IV rapids, enjoy side hikes to beautiful waterfalls and look for sloths, monkeys, and toucans in the jungle around you. Half way down the river we'll pull over at the famous Pacuare River Lodge, our stunning riverside abode for the evening. Sip on a tropical drink or explore the surrounding wilderness while your guides prepare a delicious jungle meal in the fully equipped open-air kitchen.
Meals: Breakfast, Lunch, Dinner, and Happy Hour
Day 3 – Cabecar Indigenous Village
Today, after a hearty pancake breakfast prepared by your trusty guides, you'll do a guided nature hike deep into the rainforest. Along the way, your guide will point out and explain all of the tropical flora and fauna you encounter. This is one of the most biodiverse and pristine areas in the world and you're sure to encounter more amazing wildlife than you ever thought possible! Our final destination is a small Cabecar Village. The Cabecar are the original indigenous inhabitants of the Pacuare Valley and they still live in much the same way as their pre-Columbian forefathers. Today will truly be a day you'll never forget…
Meals: Breakfast, Lunch, Dinner, and Happy Hour
Day 4 – Pacuare River & Transfer to Arenal Volcano
Once again, you'll wake to the singing of tropical birds and rumble of the nearby river. The lovely aroma of percolating coffee will coax you out of your cozy cabina and to the hearty breakfast your trusty guides have been preparing. Then, after breakfast, it's back to work, we've got boats to load and rapids to conquer. Today's whitewater will be even more thrilling than the previous day's and we'll encounter several exciting class IV rapids. From the take-out, we'll take the short drive to the bustling town of La Fortuna and Costa Rica's most active volcano, Volcan Arenal.
Meals: Breakfast, Lunch
Day 5 – La Fortuna Waterfall Hike & Canopy Tour
Wake early for your next exotic adventure. We'll start the day with a beautiful hike/scramble to La Fortuna falls, one of Costa Rica's tallest and most spectacular waterfalls. Swim in one of the many pristine pools at the base of the falls, or just relax and take in the incredible natural beauty around you. Next, I hope you're not afraid of heights because after lunch it's up into the trees for a thrilling canopy tour. We'll head deep into the rainforest on the slopes of the volcano to the start of the tour and from there you'll see amazing creatures that spend their entire lives in the canopy as you dangle hundreds of feet above the forest floor. But remember, what goes up must come down! We'll zoom using a series of 13 zip lines!! Oh, and don't forget the "Tarzan Swing" at the end…
Meals: Breakfast
Day 6 – Canyoning
Canyoning is a relatively new adventure sport in Costa Rica and has origins in the rugged canyons of the Austrian Alps. We'll start high up on the slopes of the volcano and once we reach the top of our canyon, we'll put on our dry gear and start hiking down one of the many cascading creeks. In no time at all, we'll come to our first waterfall, a beautiful 100 footer! The only way down is to repel. Your guides will rig the ropes, give you a good demonstration, then, it's into the abyss for you! You'll descend through the ruggedly beautiful canyon, repelling down one waterfall after another to the vehicles waiting below. After your wild decent, we'll whisk you back to your hotel to get cleaned up for yet another delicious dinner in the shadow of the volcano!
Meals: Breakfast, Lunch
Day 7 – Arenal Hanging Bridges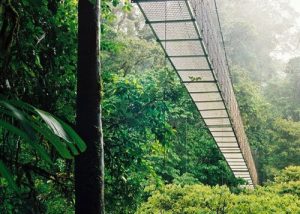 Today we'll explore one of Costa Rica's most impressive and ecologically sound projects. Arenal Hanging Bridges is located on the slopes of Arenal and the many trails and impressive suspension bridges offer numerous wildlife sightings and some of the best unimpeded views of the erupting volcano. That afternoon, you can do an optional tour to the Hotspring Resort located at the base of the volcano.
Optional Tour: Hot Springs – $45 per person
Meals: Breakfast
Day 8 – Wildlife Float Trip
Today we'll embark on a wildlife float trip on the Penas Blancas River.
You'll see hundreds tropical bird species, monkeys, sloths, reptiles of all sorts, including caimans and huge iguanas, and tons of other exotic creatures.
This is truly one of the most pristine and beautiful places on earth.
Meals: Breakfast, Lunch
Day 9 – Transfer to Los Angeles Cloud Forest
Today we'll start making our way up into the highlands of Costa Rica into the Los Angeles Cloud Forest.
Our hotel for the next couple of nights is set on its own massive wildlife reserve and is in our opinion, one of the most serine, tranquil places on earth.
Meals: Breakfast
Day 10 – Guide Cloud Forest Hike
Wake at your leisure and after a delicious breakfast we've scheduled a private nature hike for you.
The forest has a multitude of trails that cater to all ability levels and we'll provide a professional Naturalist Guide to point out and explain all of the forest's hidden treasures.
The rest of the afternoon and evening are yours to relax and enjoy this amazing paradise.
Meals: Breakfast
Day 11 – Manuel Antonio Beach
Today we'll start making our way to the Pacific Coast and one of Costa Rica's most amazing beaches.
You'll be basking under the tropical rays on the white sandy beach and swimming in the warm, crystal blue-green Pacific in no time at all.
That evening, you can take a delightful walk along the beach and watch the sun as it slowly descends into the sea.
Meals: Breakfast
Day 12 – Manuel Antonio National Park
Today you can take a leisurely hike through one of Costa Rica's most impressive National Parks.
Literally on of the most biodiverse places on earth, Manuel Antonio National Park is literally crawling with strange and exotic creatures.
You'll see dozens of monkeys, sloths, iguanas, and if you're really lucky maybe one of the stealthy jungle cats. After the hike the rest of the day is yours to enjoy the beach.
Meals: Breakfast
Day 13 – Beach Day
Sleep late (after the last few days, you've earned it!).
Soak up some rays, hit the waves, snorkel, or choose from a multitude of other cool activities — either way, just relax and have fun!
And for those of you who just can't sit still, we have several optional tours available — deep sea fishing off the coast or a day at our favorite luxury spa perhaps???
Meals: Breakfast
Day 14 – Transfer to San Jose & Adios!!
Today, sadly, we'll start making our way back to San Jose and your flight home.
We'll provide a private shuttle that will take you directly from your hotel to the passenger drop-off at the airport.
You'll depart with amazing memories of the perfect tropical family vacation.
Adios…
Meals: Breakfast
What's Included:
All Domestic Transportation
Professional Bilingual Guides
1 night Hotel in Turrialba
2 nights Pacuare River Lodge
5 nights Hotel in La Fortuna
2 nights Hotel in Los Angeles Cloud Forest
3 nights Hotel in Manuel Antonio Beach
3-day Pacuare River Whitewater Rafting Trip
Cabecar Indigenous Village Hike
Entrance to La Fortuna Waterfall Hike
Wildlife Float Trip (Penas Blancas River)
Guided Hike Through Manuel Antonio National Park
13 Breakfasts, 4 Lunches, 2 Dinner & 2 Happy Hours